Region 4 Regional Transportation Coordinating Council
About the Program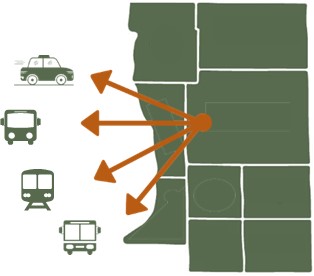 The Region 4 Regional Transportation Coordinating Council (R4RTCC) consists of stakeholders from each of the West Central Minnesota nine-county region. Counties include: Clay, Douglas, Grant, Ottertail, Pope, Stevens, Traverse, and Wilkin; Becker is included but does not have a formal agreement with R4RTCC at this time.
The R4TRCC wants to improve transit coordination throughout the region by using a "one-call, one-click" brokerage center to coordinate rides and provide a travel trainer program that will assist individuals in using the different modes of transportation offered in our region.
Our Mission
To coordinate and expand the provision of transportation services to benefit those residents of West Central Minnesota facing transportation barriers, specifically in Becker, Clay, Douglas, Grant, Otter Tail, Pope, Stevens, Traverse and Wilkin Counties.
More Information:
R4RTCC Operational Plan & Bylaws
R4RTCC Provider Directory – 2.12.21
Upcoming Meetings:
Due to COVID-19, the R4RTCC Board meetings will be held monthly via Zoom until further notice.
Scheduled Zoom Meetings
Monday, June 28, 2021 – 1:30 pm
Meeting Minutes:
Alissa Smith, Special Projects Coordinator
Email: alissas@wcmca.org
Phone: 218-770-0381
Toll Free Phone: 800-492-4805
Fax Number: 320-335-2463
Mailing Address:

WCMCA, Inc.
Attn: Alissa Smith
411 Industrial Park Boulevard
Elbow Lake, MN 56531
Heather Molesworth, Family & Community Services Director
Email: heatherm@wcmca.org
Phone: 320-304-3458
Toll Free Phone: 800-492-4805
Fax Number: 320-335-2463
Mailing Address:
WCMCA, Inc.
Attn: Heather Molesworth
411 Industrial Park Boulevard
Elbow Lake, MN 56531