FAIM: Family Assets For Independence In Minnesota
FAIM is a matched savings project that assists Minnesota low-wage workers at or below 200% of the federal poverty guideline to build assets. Participants save earned income each month that is matched at a 3:1 ratio by the public and private sector. The funds can be used to purchase a home, pursue a higher education, purchase a personal vehicle or begin or enhance a small business.
FAIM is provided locally by West Central Minnesota Communities Action, Inc., serving the five (5) counties of Douglas, Grant, Pope, Stevens and Traverse.
FAIM participants must: 
Be at least 18 years of age

Be a Minnesota resident while enrolled in FAIM

Be a US citizen or eligible noncitizen

Have earned income (wages) to deposit in savings monthly

Have a household gross annual income below 200% of the poverty guideline (see table)

Have household net assets under $10,000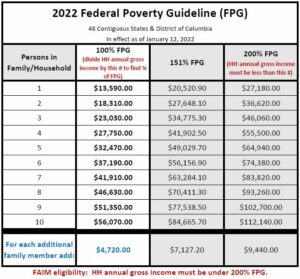 Please request an application by contacting WCMCA.
For more information on the Minnesota FAIM Program or to find a FAIM coach available in your service area:  Minnesota FAIM Program.
Megan Radermacher, Affordable Housing Administrative Assistant
FAIM
WCMCA, Inc.
1910 Aga Drive, Suite 206
Alexandria MN 56308